77-90-7 fast delivery Acetyl Tributyl Citrate good suppiler high quailty 3319-31-1 CAS NO.77-90-7
MSDS/COA Download

FOB Price: USD: 1,980.00-2,000.00 /Metric Ton Get Latest Price
Min.Order: 200 Kilogram
Payment Terms: L/C,D/A,T/T,Western Union
Available Specifications:

Assay(1-10)Metric TonAssay(10-100)Metric Ton

Keywords
77-90-7 fast delivery
Acetyl Tributyl Citrate good suppiler
high quailty 77-90-7
Quick Details
ProName: 77-90-7 fast delivery Acetyl Tributyl ...
CasNo: 77-90-7
Molecular Formula: C20H34O8
Appearance: Clear viscous liquid
Application: Dear Vanita, For you information , we...
DeliveryTime: 10 days after conform the order
PackAge: 200KGS/Iron Drum.
Port: Shanhai , China
ProductionCapacity: 1000mt Metric Ton/Day
Purity: 99%
Storage: In cool ,dry place.
Transportation: In cool ,dry place
LimitNum: 200 Kilogram
Grade: Industrial Grade
Superiority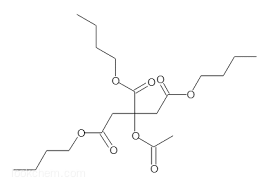 Acetyltributylcitrate is an organic compound that is used as a plasticizer. As such, it is a potential replacement of DEHP and DINP.It is a colorless liquid that is soluble in organic solvents. It is found in nail polish and other cosmetics. It is prepared by acetylation of tributylcitrate
Labelled Tributyl O-Acetylcitrate (T772950). Topical pharmaceutical formulation anesthetic surfactant ester.
Acetyltributyl citrate is used to plasticize polymers in formulated pharmaceutical coatings, including capsules, tablets, beads, and granules for taste masking, immediate release, sustained-release and enteric formulations.
- Main application: PVC Plasticizer, Food additive, Coatings, Cosmetics, Medicine, Ink.
- ATBC has low volatility, non-toxic and anti-mildew advantages. It is major plasticizer for food package and medical polyvinyl chloride, as well as the package for precision instrument--polythene multipolymer, Plasticizer for poylthene and vinyl acetate multipolymer, also for slow releasing medicine, emulsion bond; Important component of the lubricant for the surface disposal of tinplate, air purifying agent, deodorant and printing ink etc.
Details
ATBC, CAS: 77-90-7, is a safe, non-toxic plasticizer, biodegradable, mainly used as plasticizer of PVC, cellulose resin and synthetic rubber. Some of its main applications are toys for children, medical products such as blood bags, food packaging materials, and cosmetics; as well as all main PVC compounds, and fixative of inks in the flexographic industry.
ATBC is almost colourless and odourless oily liquid, free of foreign materials, insoluble in water but soluble in alcohols and organic solvents. Compared with benzoates plasticizers, ATBC is perfectly odourless. Compared with other Phthalate-FREE plasticizers, ATBC is biodegradable, biobased and it is not a kind of hydrogenated phthalate. Acetyl Tributyl Citrate is recognized as a Safe and Biodegradable plasticizer, with fewer biochemical effects